The harness is one of the essential dog accessories. This post talks about the 10 best harnesses for golden retrievers. It would help you find a comfortable and safe harness for your canine.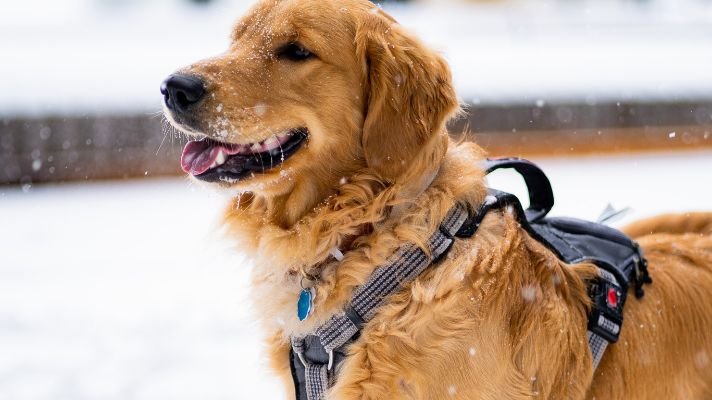 Golden Retrievers are fun-loving and affectionate dogs. Sometimes, they can get so excited. In such a situation, controlling them can be difficult. This is when a dog harness comes into the picture. As golden retrievers are energetic, they require physical activities on a regular basis.
But before taking a Goldie for long walks and outdoor activities, putting on a harness with a leash is the best thing you can do. This way, you would be able to control your pup when he gets overly excited. With this post, I will help you find the right harness for your canine.
Golden Retrievers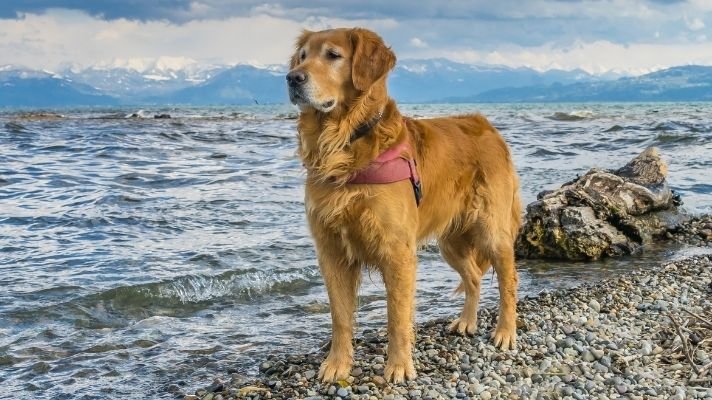 Golden Retriever is one of the most popular dog breeds in the United States and across the globe. It originated in the United Kingdom in the 19th century by Scotsman Dudley Coutts Majoribanks. The breed is known for its lovable and affectionate temperaments. Originally, the breed was developed to get an obedient dog that can retrieve shot birds undamaged.
Modern Golden Retrievers are great companions and are perfect for families. They get along well with kids and even strangers. As they are energetic, they enjoy long play sessions and spending time with their loved ones.
Also Check: Pros & Cons of Golden Retrievers
10 Best Dog Harness For Golden Retriever
Here are the features, pros, and cons of each product:
This guide may include affiliate links. If you click and purchase, we may receive a small commission at no extra cost to you. We only recommend what we have thoroughly personally vetted.
Rabbitgoo No-Pull Dog Harness With 2 Leash Clips
Rabbitgoo no-pull harness is built for medium to large dogs like Golden Retriever. Goldens can sometimes get out of control when they are excited. That's when you realize the importance of having a no-pull harness. This no-pull dog harness by Rabbitgoo comes with two leash clips; the chest attachment clip will stop your pup from pulling on walks, while the back attachment clip can be used for casual walks.
Talking about the material, it is made of durable nylon oxford. Its air mesh padding makes it comfortable and safe for your canine's skin.
The harness is really easy to put on and take off. It comes with two buckles on the sides and four adjustable straps (two neck straps & two chest straps).
FEATURES & BENEFITS
Two metal leash rings
Durable top handle for instant control
Two fast-release buckles
Adjustable straps (two neck straps and two chest straps)
Reflective strips for safe night walks
Material: Polyester, Nylon
CONS
The top handle with foam wrap would have been easier to grip
RUFFWEAR Front Range Dog Harness
RUFFWEAR's front range harness is comfortable, safe, and secure. Its lightweight and durable design make it comfortable. It is designed in such a manner that your Goldie can wear it all day long. If you are planning for outdoor adventures with your Golden Retriever pup, consider buying this harness.
Firstly, this harness is easy to put on and take off. Another thing is it is fully adjustable. It comes with four convenient points to adjust as per comfort. With this harness, you get two leash attachment points; one on the back and another on the chest.
This front range harness also features reflective trim, meaning your pup would be easily visible day and night. When going on an adventure with your pup, this feature can be really useful.
FEATURES & BENEFITS
Two leash attachment points
Four adjustment points
Perfect for adventures
Reflective trim for visibility
ID tag pocket
CONS
The harness is padded for sturdiness and comfort, but in the summertime, it can make the pup hot
PetSafe Easy Walk Harness For Dogs
If you are finding a lightweight and less coverage harness for the Golden Retriever dog, PetSafe's Easy Walk harness is for you. Unlike other harnesses, it has no padding. This can be a pro and a con at the same time. With less coverage and without any padding, your pup will stay cool in the summertime. However, without padding, your pup may not get the comfort it needs.
The harness comes with a Patented Martingale loop to avoid pulling. Its patented loop and chest leash attachment make it the best no pull harness for Golden Retriever. How do you figure out whether you have put on the harness correctly or not? Well, you can do that by checking if the harness is forming a sideways T when the dog is standing. Before ordering this harness for your Golden, make sure to check the size chart (considers chest, girth, and weight).
FEATURES & BENEFITS
Lightweight and breathable design
Patented Martingale loop
Prevents pulling
Made of nylon material
No choking as it will rest across your pup's chest, and not throat
CONS
No reflective strips
To put it on correctly, some practice is required
Embark Adventure No-Pull Dog Harness
Embark Adventure harness is perfect for active dogs like Golden Retrievers. Firstly, the harness is made with durable, military-grade nylon material. When going on a trip with your pup, investing in such a durable harness is worth it. The harness is really easy to put on and take off. Highly adjustable straps and buckles will allow you to adjust as per your pup's comfort. It also has a sturdy handle on the top. Getting instant control over your Golden Retriever would be possible with the top handle.
Before buying this harness, make sure you select the right size. It is available in four sizes – S, M, L, and XL. You can pick the right harness size for your Goldie dog simply by measuring its chest size.
FEATURES & BENEFITS
Easy to put on and take off
Heavy-duty buckles
Front and back leash attachment
Adjustable straps and buckles
Top handle for instant control
CONS
Straps loosen over time, so you will find yourself readjusting it very often.
Noxgear Multicolor LED Illuminated Reflective Dog Harness
This is the best harness if you want to buy a harness mainly for night walks with your pup. Or, if you are planning for a trip with your pup, this reflective harness can be a savior. This is the must-have accessory for owners with super exciting and out-of-control canines.
Noxgear's Multicolor Reflective harness comes with 360-degree illumination and fluorescence, which provides visibility from half a mile distance.
It can change between eight super bright solid colors and six eye-catching multicolor flashings. These colors would make your canine visible in the nighttime.
Apart from safety in the nighttime, Noxgear's harness also takes care of comfort. It is highly adjustable; easy to put on and take off.
FEATURES & BENEFITS
Multicolor LED light flashing
Visible from half a mile away
Highly adjustable
Weatherproof
The long-lasting battery of up to 12 hours
CONS
JUXZH Truelove Soft Front Dog Harness
JUXZH Truelove dog harness can be used for different purposes, be it training, adventures, jogging, or walks. From the top handle to reflective strips, it has all the safety features you expect in a good harness. Besides this, JUXZH focused on the dog's comfort as well. Lightweight, breathable mesh lining with soft sponge padding would ensure comfort and will prevent injuries. The harness comes with four adjusters – two buckles and two neck-straps. Adjusters allow making the harness a perfect fit for your canine.
Another good thing about this harness is its reflective strips. Reflective stitching provides better visibility at night.
FEATURES & BENEFITS
Lightweight, breathable, durable material
Handle for instant control
Two buckles and two straps for adjustment
Two leash attachment points (back and chest)
Reflective strips
CONS
The handle is quite small
EzyDog Premium Quick Fit No-Pull Harness
Some harnesses take too long to put on and take off. Well, that won't be an issue with the EzyDog Premium harness. It comes with a quick-clip buckle system, which ensures easy put on and take off. One-click fit system of this harness lets you know whether it is the right fit or not. If not, you can make changes with adjusters. Check out the size chart before buying the harness to get the right fit. Its chest sleeve is neoprene padded for a comfortable fit. Wearing it for too long won't irritate or tire your pup.
Another upside is nighttime visibility. Reflective strips stitched on the harness would ensure the safety of your canine when going for walk or jogging in the nighttime.
FEATURES & BENEFITS
Quick-clip buckle system
Neoprene padding for maximum comfort
Reflective stitching for safety
Easy adjustments
CONS
Chai's Choice – Premium Outdoor Adventure Dog Harness
Chai's Choice dog harness is designed especially for outdoor adventures. Firstly, the harness is made of lightweight mesh material with soft sponge padding on the chest and belly. So, no matter how long Goldie wears this harness, it won't tire him. It also features a handle on the top, which provides instant control. At any moment you feel your dog is getting hard to handle with the leash, this top handle becomes the savior. With strap adjusters, you can adjust it as per your Golden's comfort.
Before purchasing it, measure your canine's chest so that you can order the right harness size.
FEATURES & BENEFITS
Durable, lightweight harness
Sponge padding on the chest and belly will ensure comfortability
Top handle for instant control
Two leash attachment points
Ideal for adventurous trips
Reflective stitching
CONS
It has self-loosen straps that need to be retightened
HDP Big Dog Soft No Pull Harness
If you have got a stubborn golden retriever that pulls so much, you need a sturdy, durable harness. Getting control over a heavy puller pup can be difficult. HDP no-pull harness is designed especially for heavy pullers and the elderly. No matter whether you want to take your dog for a walk or for a long trip, this no-pull harness will keep your dog in your control. The top handle provides instant control.
Talking about comfortability, the harness has extra padding so that the dog doesn't get tired even after wearing it for so long.
FEATURES & BENEFITS
Best harness for heavy pullers and elderly
Extra padding for comfort
Instant control with top handle
No choke harness
Easy click buckles
CONS
The chest strap is not padded (which isn't a big con)
Copatchy No Pull Reflective Adjustable Dog Harness
If you are finding the best harness for Golden Retriever puppy, Copatchy no-pull adjustable harness is for you. It is made with mesh material to provide the best comfort. This lightweight and comfortable harness will fit perfectly on your Golden pup. It can be used for walking, jogging, running, hiking, or training. Handling an overly-excited pup isn't easy, especially when outdoors. With this harness and its top handle, you will have instant control over your furry friend.
It has two leash attachment points; one on the neck and another one on the chest.
FEATURES & BENEFITS
Easy on and easy off
Filled with a soft sponge for comfort
No choking harness
Two leash connecting points
Sturdy handle for quick control
CONS
It isn't ideal for strong pullers
Things To Consider When Choosing A Harness For Your Golden Retriever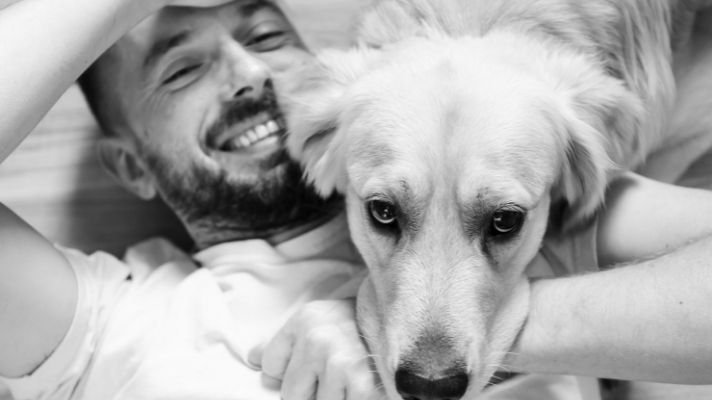 Before buying a dog harness, there are several things you need to take into account. Take a look at these points to find the right harness for your Golden pup:
1. Material
Comfort is the main reason you should be concerned about the harness's material quality. After all, your pup will be wearing it for long hours. Ensuring comfort becomes more important when you take your canine for an adventure trip.
When it comes to material quality, durability also matters. Consider buying a harness made with padding and soft material. Harnesses made with nylon and other synthetic materials are very durable, but they aren't as comfortable as harnesses made with natural fiber and soft material.
2. Comfort
Your canine will be in a harness for long hours, so you must get a harness that is comfortable for your dog. Harness material, fit, adjustments, design, etc. are some factors affecting comfort. Make sure to run through these checks and then pick the right harness.
3. Measure your dog
Harness material isn't the only factor that affects comfortability. Size and fitting play an equal role. Each company has its own size chart. Before you buy a harness, make sure you properly measure. Measuring the neck, chest, and weight would be more than sufficient to find the right harness size.
4. Harness buckles
The harness may have plastic or metal buckles. Both have their own pros and cons. With plastic buckles, it might be easy for you to put on and take off, but these lightweight buckles aren't for stubborn pups. If you have got energetic, stubborn, and excited golden retriever, go with metal buckles.
5. Adjustments
Another essential aspect to consider is the adjustment points. For the perfect fit, each area (neck, chest, waist) should have adjustable straps and buckles. With adjustment points, you can make sure the harness isn't too tight or too loose.
6. Reflective strips
If you often take your pup out in the nighttime, consider getting a harness with reflective strips. Golden Retrievers are highly active and excited dogs. When your canine is out of control, reflective strips work as a savior. It provides better visibility in the dark and ensures security.
7. Harness type
Different types of harnesses include – back-clip harness, front-clip harness, dual clip harness, and head halter harness. Among different types of harnesses, choosing the right one is a big confusion. The right harness type may vary from one dog to another. To buy the best harness, consider your pup's behavior and temperament.
Final Thoughts
Golden Retrievers are energetic and active. Due to these temperaments, sometimes they can be difficult to control. When taking your canine out for walks, jogging, play sessions, or training, make sure it is wearing a durable and comfortable harness. I hope this guide helped you find the perfect harness for your Goldie dog. Got questions? Feel free to get in touch.
Also Read:
10 Tips For Traveling With A Golden Retriever
Are Golden Retrievers Good Hiking Dogs?