Chew toys reduce boredom and provide mental stimulation. With this article, I'll help you find the best chew toys for Golden Retrievers.
Golden Retrievers are outgoing, fun-loving, and affectionate canines. They were originally bred to spot hunted waterfowl and bring them back to the hunter. With a soft mouth, Goldens used to easily grab birds and take them back undamaged. Happy and playful nature sets apart Golden Retrievers from many other dog breeds. The breed is active, energetic, and always ready to play. Goldens' playfulness is the personality trait that makes them perfect family companions and one of the most popular dog breeds.
However, the main problem is their higher chewing instincts. Golden Retriever's excess chewing can sometimes lead to destructive behavior. It can result in your carpet, mattress, shoes, and other household items getting damaged.
Now, the question is – how to deal with excess chewing?
The best way to satisfy chewing instincts is by getting the right chew toys. Playing with chew toys will provide mental stimulation and reduce boredom & anxiety.
Why Do Golden Retrievers Need Chew Toys?
Well, there are various reasons why goldies need chew toys. They need chew toys because:
They have high chewing instincts
They get bored easily and always need something to do
They can be destructive sometimes (mainly when they don't get enough exercise)
Chewing relieves teething pain (for puppies)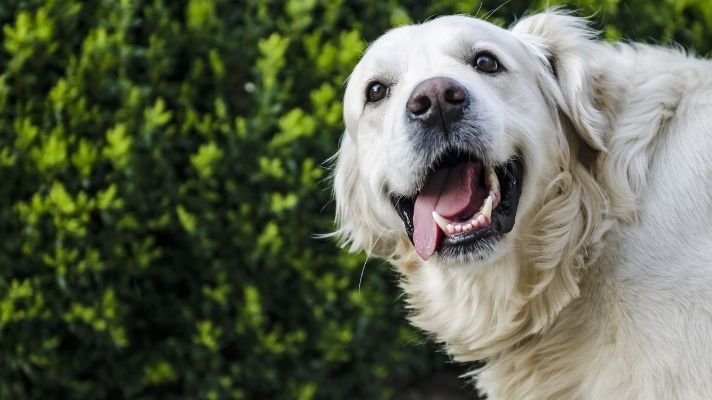 Playing with chew toys provides them with mental stimulation. It reduces boredom and anxiety. We all know that Golden Retrievers are energetic and playful. Thus, it's best to keep them busy with something. Chew toys can keep them busy. Your doggy can spend hours having fun with toys. When you leave your pup alone for a longer period, he/she will be distracted by toys. Another reason to get chew toys is to help Golden Retriever puppies with teething. Incoming adult teeth may cause pain. Chewing relieves this pain.
Best Chew Toys For Golden Retrievers
Let's talk about each chew toy one by one:
This guide may include affiliate links. If you click and purchase, we may receive a small commission at no extra cost to you. We only recommend what we have thoroughly personally vetted.
Benebone Wishbone Dog Chew Toy
This is one of the best chew bones for Golden Retrievers. You will come across chew dog toys without flavor, but this one has a flavor. It is available in three flavors – Real Bacon, Real Chicken, and Real Peanut. No matter which flavor you choose, all are made with real ingredients. The bone chew toy is durable and long-lasting. It could last for weeks. That's what makes it ideal for excess chewer breeds like a Golden Retriever.
It comes with a paw-friendly design. This design would make it easier for the dog to grab and chew this Wishbone toy.
FEATURES & BENEFITS
Available in three flavors – Bacon, Chicken, and Peanut
Real ingredient for real flavor
Long-lasting chew toy
Paw-friendly design
Ideal for aggressive chewers
CONS
It may not be good for a dog's teeth
Nylanbone Power Chew Flavored Textured Dog Chew Bone
This is another best chew bone for a Golden Retriever dog. It is built especially for aggressive chewers. It is made in such a way to last longer. Thus, you do not have to replace it very often. Like the Benebone Wishbone toy, this one is also available in three flavors – Bacon, Chicken, and Peanut. You can select the one your canine is good with.
Get this toy if your Golden is destroying various household items due to higher chewing instincts. This bone toy will discourage the destructive chewing habit of your canine. Besides this, it will improve dental health as well. It is designed in such a way that tartar and plaque can be avoided.
FEATURES & BENEFITS
Satisfied natural chewing instincts of the dog
Long-lasting nylon
Different flavors available
Improve dental health
Prevents destructive chewing
CONS
It could be hard on teeth
Toozey 7 Pack Puppy Toys
These are the best chew toys for Golden Retriever puppies. When your Golden Retriever puppy starts getting adult teeth, you need to buy chew toys to relieve teething pain. Toozey's Puppy Toys bundle comes with 7 different teething toys – calf plush toy, rope knot ball, bone plush toy, candy knot rope, chew knot ropes, chewing dumbbell toy, and doughnut plush toy. Basically, the set contains various squeaky plush toys and rope toys.
These toys are made from PP cotton and premium-quality plush to ensure safety. With these toys, you can keep your Golden puppy busy for long hours. Apart from that, these chew toys will improve dental health as well. They will be soft on your pup's mouth and prevent plaque & tartar buildup.
FEATURES & BENEFITS
Set of 7 puppy toys
Improves dental health
Made with PP cotton
It will help your Golden Retriever puppy with teething
The toys will be soft on your pup's mouth
Non-toxic and bite-resistant
CONS
Not durable. Some of these toys may rip apart by your pup easily
Goughnuts Virtually Indestructible Ring Durable Dog Chew Toy
Goughnuts Virtually Indestructible ring toy is made with rubber material. The toy is made to last long. It comes with a red safety core. After the excess chewing, the red safety core indicator will appear when the toy needs replacement. If your pup becomes destructive and destroys household items like carpet, clothes, sofa, etc., buy this chew toy. As compared to other chew toys, it is a bit pricy. However, it's worth the investment.
This can be the best chew toy for heavy chewer breeds like the Golden Retriever. This toy isn't made with hard material, so it won't harm your canine's teeth.
FEATURES & BENEFITS
Durable chew toy
Made with natural rubber
Ideal for strong chewers
Red safety core
Available in different sizes
CONS
Its rubber smells strong at first
Nylabone Power Chew Textured Dog Chew Ring Toy
Nylabone Power Textured Toy comes with a unique textured ring design. This design would make it easy for your paw friend to hold and chew easily. It is made with durable nylon material. Thus, this chew toy will last longer and you do not have to replace it very often. When your Golden Retriever doesn't get enough exercise and builds destructive behavior, this chew ring toy can help a lot. It will discourage destructive chewing and save your other items like shoes, carpet, etc. from getting chewed.
Besides this, it will also improve the canine's dental health of your dog. The ridges and nubs will prevent tartar and plaque buildup.
FEATURES & BENEFITS
Textured ring design
Long-lasting
Better dental health
Prevents destructive chewing behavior
Ideal for aggressive chewers
CONS
It's not flavored
It could be hard on teeth
Volacopets 5 Interactive Dog Toys
This is a set of five interactive dog toys by Volacopets. The set includes a squeaky ball, solid rubber ball, wool ball, dental cleaning ball, and treat dispensing ball. This way, you do not have to buy these dog toys separately. Each of these five toys is built for separate needs. Squeaky ball and treat ball to keep pup busy when he's alone. Rubber ball and wool ball to satisfy chewing instincts. And, the dental cleaning ball to promote dental health.
The good thing is that these balls aren't made with plastic. Toys made with plastic can be harmful to dogs. So, when buying a chew toy, it is best to avoid plastic material.
FEATURES & BENEFITS
A bundle of five interactive toys
Not made with plastic material
Made with safe, non-toxic materials
These toys are great for aggressive chewers
CONS
Mammoth Flossy Tug Dog Chew Toy
This interactive chew toy is designed to play tug of war. With this rope toy, you can have long play sessions with your Golden Retriever. It is made from North American Cotton-Poly yarns. It is a safe and non-toxic dog toy. Mammoth Flossy rope toy is available in different styles. You can choose from 2 knots, 3 knots, 4 knots, and 5 knots.
Interactive game sessions with this toy will help your canine burn off its excess energy. The Golden Retriever is an energetic breed. So, goldies do require involvement in physical activities. When you are not around, the pup would stay busy chewing this rope toy. Another advantage is better oral health. Chewing this toy would prevent plaque and tartar buildup.
FEATURES & BENEFITS
Interactive tug toy
Rope knotted toy
Made with safe, non-toxic material
Improved oral health
Burn off dog's excess energy by playing with toy
Ideal for heavy chewers
CONS
GoDog Gators Tough Plush Dog Toy
GoDog Gators plush toy is another fun chew toy for Golden Retrievers. The unique feature of goDog Gators plush dog toy is Chew Guard Technology. This is what sets it apart from other chew toys. The company claims this technology ensures durability. Chew Guard Technology adds tough, durable lining to this plush toy. Thus, it will last longer and tough chewing won't damage it.
The built-in squeaker will make fun sounds. It will keep your pup busy for long hours. If you often leave your Golden Retriever alone, this toy will help your dog with separation anxiety. That doesn't mean you keep your dog alone with this toy. The Golden Retriever is a sociable and active dog breed, which can't be left alone for too long.
FEATURES & BENEFITS
Under-stuffed dog toy
Comes with Chew Guard Technology
Built-in squeaker
Ideal for chewer pups
CONS
Squeaker needs improvement
Guide To Buying Chew Toys For Golden Retrievers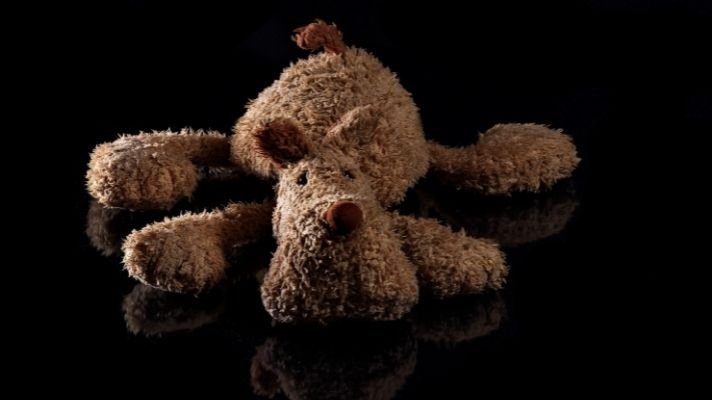 The wrong toy would lose the dog's attention easily. Also, it would rip off easily. Before getting a new chew toy for your Golden pup, here are the factors you need to consider:
1. Durability
Firstly, you need to make sure whether the chew toy is durable enough or not. A toy may be attractive and your canine's favorite, what if it tears apart easily? You will have to replace them very often, right?
After a certain point of time and too much usage, the toy requires replacement. Before buying, you need to check out how long it can be used. Most manufacturers recommend replacement after 3 to 4 weeks of usage.
2. Material
The durability of a chew toy gets affected by the material quality. When buying a chew toy, you will come across toys made with nylon, rubber, plastic, etc. materials. It's best to avoid chew toys made with hard plastic or nylon. Too hard material can be durable and last longer but it can be hard on teeth.
3. Type of chew toy
Some types of chew toys are rope toys, ball toys, and plush toys. All dogs are different. The right type of chew toy varies depending on the chewing instincts of the dog. As Golden Retrievers are aggressive chewers, it's imperative to get sturdy toys. I don't recommend soft plush toys for a goldie dog. Instead, you should consider rubber toys, ball toys, and rope toys.
4. Entertaining
The chew toy you select needs to be fun and entertaining. This way, you can keep your pup busy and distracted for hours. This becomes more important when you often leave your pup alone for a longer duration.
Related Questions
Are Golden Retrievers heavy chewers?
Yes, Golden Retrievers have higher chewing instincts. When their excess energy levels are not utilized the right way, they can be destructive and heavy chewers. Providing chew toys is the best way to control & satisfy their chewing instinct.
What are the benefits of chew toys?
There are different ways chew toys can benefit your canine.
Chew toys satisfy chewing instincts.
Help puppies with teething.
They keep pups busy and distracted.
Improve oral health by preventing plaque and tartar buildup.
Prevent destructive behavior and save household items from getting chewed.
Why does my Golden Retriever chew everything?
There can be various reasons behind a Golden Retriever chewing excessively. It could be due to:
Lack of exercise
Boredom
Teething pain
Lack of training
Seeking attention
Golden Retrievers are energetic. When they are left alone for long without sufficient physical activities, they become destructive. The pup gets bored when he has nothing to do. So, boredom could be the reason why your Golden chews everything.
For Golden Retriever puppies, the incoming of adult teeth causes pain. Chewing relieves their pain. The lack of proper training is another possible reason why your pup chews everything. It's advisable to start training during puppyhood so that he doesn't become an aggressive chewer during adulthood.
Not getting enough attention can also make your pup chew everything. It can make your pup destructive. So, give your canine the love and attention it needs.
How to get a Golden Retriever to stop chewing?
First of all, chewing is a natural behavior of dogs. You should be concerned when this behavior turns to excess chewing. Give your Golden Retriever a safe chew toy. This way, your dog won't damage household items like clothes, shoes, carpets, etc.
The lack of attention by the owner is one of the reasons why dogs become chewers. So, give your Golden all the love and attention it needs. The lack of training is another reason. Train your canine not to chew anything it comes across.
Last but not least, provide regular exercise. As Golden Retrievers are active, they require moderate-intense exercise regularly. In the absence of enough exercise, they can become destructive and aggressive chewers.
Final Thoughts
Chewing is a natural behavior in dogs that cannot be stopped completely. It becomes problematic when normal chewing habit turns to aggressive chewing. In this case, chew toys can help satisfy chewing instincts and prevent destructive behavior. To help you find the right chew toys for your canine, here I have shared the list of the best chew toys for Golden Retrievers. I have also shared the buying guide and answered some FAQs.