Grooming your Goldie with the right brush is super important. Here we have compiled the list of 7 best grooming brush for Golden Retrievers.
Grooming is an essential part of dog care. And, there are different grooming activities you have to perform, as a dog owner. This includes brushing, providing regular baths, nail trimming, and so on. Here we will talk specifically about brushing. Dog grooming is incomplete without brushing. To keep your canine free from dirt and to groom properly, regular brushing is of utmost importance.
Brushing and coat care of your Golden Retriever pup shouldn't be tedious. This is when the importance of selecting the right grooming brush comes in. You will come across different types of grooming brushes. Make sure whichever you select is ideal for your pup.
About Golden Retrievers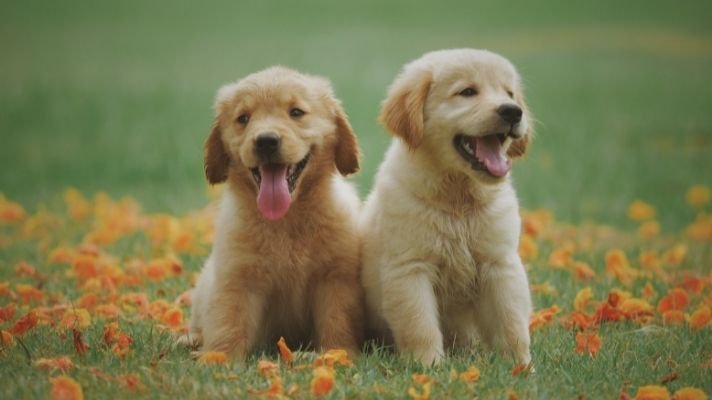 Golden Retriever originated in the United Kingdom in the 19th century by Scotsman Dudley Coutts Majoribanks. It was made by crossing a retriever breed dog with a Water Spaniel. Then, he crossbred their offspring with Bloodhounds, St. John's Water Dog, Irish Setters, and others. It was 1908 when the first time golden retrievers were shown. In 1925, the breed got recognized by the AKC (American Kennel Club).
Bird hunting used to be popular during those days. The motive of Majoribanks was to develop an obedient dog breed that can retrieve shot birds undamaged. At present, it is one of the most popular dog breeds in the United States. The happy, friendly, and obedient personality traits of golden retrievers make them perfect for families.
Best Brushes For Golden Retrievers (Reviews)
Let's take a look at the features, pros, and cons of each grooming tool mentioned above:
This guide may include affiliate links. If you click and purchase, we may receive a small commission at no extra cost to you. We only recommend what we have thoroughly personally vetted.
HERTZKO Self Cleaning Slicker Brush
When it comes to grooming a golden retriever, a slicker brush is a must-have item. The slicker brush has short wires attached to a flat surface. After adopting a golden retriever dog, coat tangling is one of the main problems you will come across. A slicker brush will remove mats and tangles from your canine's coat. Besides this, it will also remove dirt from your pup's coat.
HERTZKO slicker brush removes dirt and tangles from the coat without hurting. Its bristles are designed to groom undercoats without scratching or hurting the dog's skin. After a grooming session, cleaning this brush won't be a tedious task. You can easily remove all the hair from it just by pressing the button. Hence, this inexpensive grooming tool can be a good addition to your dog's grooming kit. It would play a significant role in your golden's regular grooming.
FEATURES & BENEFITS
Smooth bristles for hassle-free grooming
Removes loose hair and tangles
Also removes dirt from the coat
Easy, one-click cleaning
CONS
The wires go back inside when the button is not pressed
The Pet Portal Store Slicker Brush For Shedding
It is a self-cleaning slicker brush designed for long-haired as well as short-haired pups. Using this brush, you can remove mats, tangles, and dirt from your golden retriever's coat. The brush comes with soft bristles, which will be gentle on your canine's skin and coat.
Cleaning is super easy. After grooming your golden with this slicker brush, just push the button to clean it. The slicker brush by HERTZKO has all the useful features, but the main con is its bristles go back inside when the button is not pressed. This slicker brush by Pet Portal isn't designed that way.
FEATURES & BENEFITS
Stainless steel bristles
Press and swipe cleaning
Soft bristles to avoid scratches and pain when grooming
Removes loose hair, tangles, and dirt
CONS
As its wires are short, they may scratch a short-haired dog
HERTZKO Bristle Brush For Dogs
This is another grooming brush by Hertzko. A bristle brush is perfect for regular brushing and grooming. Managing a golden retriever's fur can be difficult without regular grooming, especially during the shedding season.
This bristle brush by Hertzko is ideal for golden retrievers of all sizes. It is designed in such a manner to promote blood circulation and to improve skin & coat health. It has a comfortable grip and anti-slip handle. This prevents it from falling from the hand during long brushing sessions.
FEATURES & BENEFITS
Gentle bristles
Anti-slip handle
Removes tangles and mats
Improves coat health
CONS
Its bristles are too soft to remove loose hair from the coat effectively
FURMINATOR Undercoat Deshedding Tool
The main problem with double-coated dogs like golden retrievers is high shedding. Spring and fall are the seasons when goldens shed excessively. Thus, having a de-shedding tool is a must. Furminator's de-shedding tool will help you remove loose hair from your golden retriever's coat. The tool will go undercoat through the topcoat without damaging topcoat hair.
To protect your dog's skin, it features Skin Guard. Skin Guard will glide over your pup's skin and prevent scratching & hurting. Depending on the grooming needs of your canine, the grooming session may last longer. This de-shedding tool comes with an ergonomic handle that will provide a comfortable and smooth grip.
FEATURES & BENEFITS
Stainless steel de-shedding edge
Comfortable, ergonomic handle
It can remove undercoat hair without damaging the topcoat
Release hair with the FURejector button
"Skin Guard" for better protection
CONS
The tool isn't very durable
PawsPamper Undercoat Rake For Dogs
Apart from the de-shedding tool, an undercoat rake is another tool you should get for your golden retriever. This grooming tool is designed to prevent tangles and mats from the coat. Its stainless steel rounded blade edges won't harm your canine's skin. As Golden Retriever is a double-coated dog breed that sheds moderately all year round, you need a grooming tool that goes undercoat and removes dead, loose hair.
Your dog might have a thick coat; no worries. This tool will do its work without causing damage or pulling hair from the skin. As coat thickness and length vary from one dog breed to another, the ideal rake blade also varies from one breed to another. PawsPamper rake is available in two variations 20 blades and 13+27 blades. For a golden retriever, you can use any of these blades.
FEATURES & BENEFITS
Stainless steel teeth blades
Rounded blade edges won't hurt the skin
It removes loose hair without pulling coat hair
Durable wooden handle
CONS
Due to its small size, grooming with this rake can be time-consuming
ROPO Pet Steel Combs with Rounded Teeth
Mats and tangles can be very frustrating. They are the result of not combing or brushing for too long. ROPO's steel comb is designed especially to remove loose hair, mats, tangles, dander, and dirt. As this comb is made with stainless steel, there's no question about durability. The comb's stainless steel pins are rounded (not sharp), so combing with this tool won't hurt your pup's skin.
The comb comes with wide as well as dense teeth. Wide teeth can comb matted fur, while dense teeth can comb your pup's soft hair around the eyes, ears, and legs.
FEATURES & BENEFITS
Stainless steel teeth
Prevent tangles and mats
Double teeth
Rounded top teeth
Lightweight and easy to carry
CONS
As its teeth length is quite big, it may not be ideal for combing a small pup
GoPets Double Sided Pin & Bristle Brush
A pin brush and bristle brush play a significant role in grooming a golden retriever. If you don't want to buy a pin brush and bristle brush separately, consider buying this combo. Its pins have rounded tips. Thus, brushing won't hurt or scratch your dog's skin. Talking about the bristle side, the bristles are soft and will remove loose hair and dirt from your canine's coat.
In a nutshell, the pin brush side is ideal for longer coats and the bristle side is ideal for short coats. This double-sided brush's comfortable grip handle will ensure a hassle-free grooming experience. You can have longer grooming sessions without tiring your hand.
FEATURES & BENEFITS
Pins with rounded tips
Soft bristles
The pin brush side is ideal for sensitive skin
Bristle side removes loose hair, tangles, and dirt
Comfortable handle with a non-toxic silicone gel
CONS
The pin side may not work well on thick & dense hair. When used, pins may start to fall out.
Things To Know Before Buying A Grooming Brush For A Golden Retriever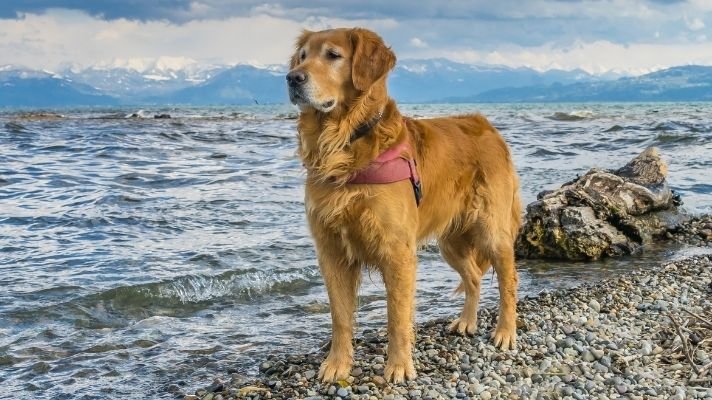 The right dog brush is the one that removes tangles and mats from the coat and keeps it clean. Before you purchase any brush, these are the things you need to consider:
1. Type
The first and foremost thing to consider is the type of dog brush you need to buy. In the above section, you have already seen different types of grooming brushes from different brands. Now, the question is, which one is ideal for golden retrievers? You don't need to buy all the brushes.
For a golden retriever, you can consider buying a slicker brush, pin or bristle brush, and an undercoat rake. A pin or bristle brush would help with regular brushing. A slicker brush would remove mats and tangles from the dog's coat. And, an undercoat rake would help you deal with shedding during fall and spring.
2. Skin condition
Another crucial factor to consider when selecting a brush is the skin condition of your golden retriever. If your canine has skin allergies, lumps, bumps, warts, or hot spots, make sure to consult your veterinarian before using any brush.
3. Goldens spend so much of their time outdoors
The Golden Retriever is an energetic dog breed with plenty of exercise needs. What does it mean? It means golden retrievers spend a pretty good amount of time outdoors in physical activities. Thus, their coat is more likely to get dirty and tangled. Brushing with a high-quality slicker brush on a regular basis will keep your doggo's coat clean and tangle-free.
4. Shedding
Golden retrievers have double coats and as a dog owner, shedding is the main issue you have to deal with. As golden retrievers shed all year round (excessively in fall and spring), it's very important to brush them regularly. Regular brushing can reduce shedding, remove matting, and keep the coat clean.
5. Brush handle
After all, you will be brushing your pup on a regular basis. Thus, you need to make sure the brush you select is comfortable to hold. This way, your arm won't fatigue even after long grooming sessions.
Related Questions
What tools do you need to groom a golden retriever?
To groom a golden retriever, you need a brush, comb, and thinning shears.
What happens if you don't brush your golden retriever?
Goldens have a dense outer coat with a thick undercoat. Not brushing on a regular basis can form rigid tangles and mats. Removing those rigid tangles is possible, but can be painful.
How much brushing does a golden retriever need?
It is advisable to brush a golden retriever dog at least three times a week. If possible, maintain a daily brushing schedule. That's how you can avoid tangles and keep the coat clean.
Final Thoughts
Brushing is a critical part of dog grooming. For double-coated breeds like a Golden Retriever, brushing becomes more important. This dog breed sheds throughout the year, so following a regular brushing schedule is so important. You might have heard of various types of dog brushes like slicker, pin, and bristle brushes. For newbies, finding the right brushes can be a tedious task. In this post, I have walked you through the 7 best brushes for golden retrievers with their features, pros, and cons. I have also shared a buying guide so that you can pick the right brushes from the list.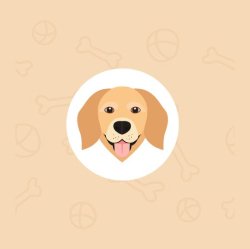 Latest posts by Brandon Dickinson
(see all)